Where in Kauai can I do Stand up paddle SUP?
Stand-up paddleboarding is one of the most effective core strengthening water workouts. It's also an ancient Hawaiian sport. Early Polynesian surfboards were large slabs of wood on which surfers commonly stood upright while using a large paddle to propel themselves out into the waves. In the late-1930s, Duke Kahanamoku, the father of modern surfing, famously rode the waves of Waikiki on a SUP, which helped to introduce the sport to contemporary surfers around the globe. In recent years, stand-up paddleboarding has exploded in popularity. On lakes, rivers and in oceans, the SUP is the perfect vessel to explore beautiful waterways while boosting your fitness.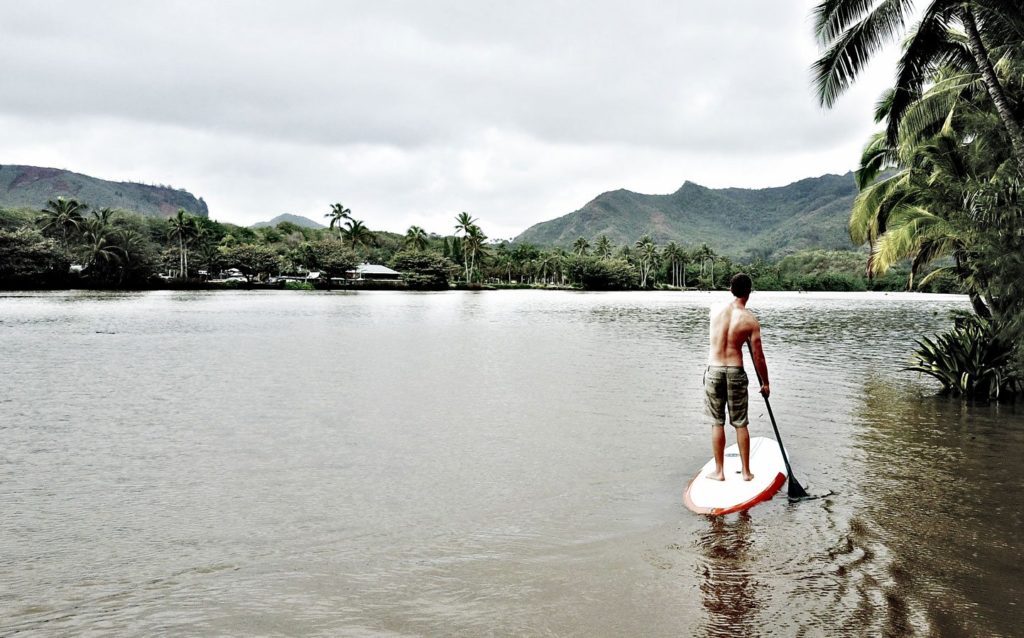 While it takes strength and balance to master the art of stand-up paddleboarding, it's not difficult to grasp the basics of the sport in a single afternoon. Advanced paddlers will enjoy the thrill of catching a wave in the legendary Hawaiian surf, while beginners will enjoy the serenity of a paddle on one of Kauai's more placid waterways. For those weary of falling off of the board into the water, keep in mind that it's possible to paddle while seated, virtually eliminating the risk of getting wet. Most of Kauai's waterways are unshaded, so it's wise to wear a protective hat and sunscreen when you're paddleboarding.
Wailua River
Hawaii's only navigable river is the Wailua, a waterway rife with history and treasures. Formerly the home of Kauai's royalty, the entire river valley is a place of importance in Hawaiian spirituality and culture. A SUP offers an exciting means of exploring not only the river, but also a grotto and waterfall hidden located a short hike off the riverbank. While paddling the river en route to these sights, you will take in views of tropical forests and the Sleeping Giant, a prominent moun
tain ridge that resembles a giant lying on its back. The waters of the Wailua are almost always calm, and very rarely empty. The river is a popular spot for stand-up paddleboarding, as well as kayaking, boating and jet skiing. It's a fun and bustling place to enjoy a SUP adventure. In Hawaiian language, "wailua" means two waters, which accurately describes this area that forms the intersection of both the ocean and a river.
Anini Beach Park
Hawaii's longest stretch of coral reef guards this north shore coastline from the open ocean, making it a year-round stand-up paddleboarding sanctuary. Anini is particularly suitable for beginner paddlers attempting to stand up for the first time. Standing atop your board, you're likely to spot tropical reef fish, sea cucumbers, eels, seahorses, eagle rays and honu, which is the Hawaiian word for green sea turtles. Anini's wide, lake-like waters are two miles wide, and paddlers can venture up to a half-mile out to sea. If you do venture out to the edges of the reef, beware of strong currents and wave breaks. This beach is also optimal for snorkeling and swimming any time of the year. Generally, we recommend parking at boat ramp, where you can most easily access the water with your board. Depending on wind conditions, you may want to park near Anini's west end (GPS coordinates 22.223082, -159.462563) so that you can paddle into the
wind and then enjoy a nice tail wind on the way home. Drive time to Anini Beach Park from Kauai SUP is XXX minutes.
Hanalei Bay
Kauai's crescent-shaped Hanalei Bay is arguably the crown jewel of the island. The two-mile sandy beach is skirted by 4,000-foot emerald green mountains that become drenched in dozens of delicate waterfalls after a heavy spell of rain. In the summer, when the bay is calm and lake-like, and on the rare winter day when the surf isn't too big, the bay is a stand-up paddleboarding playground. Gliding on your board in the center of the bay, you'll have a world-class view of all of Hanalei, including Puff the Magic Dragon, whose likeness is hidden in the ridgeline of the Hanalei mountains. Since paddling in the open ocean is more advanced than paddling on a river, it's recommended that beginners enter the bay between Hanalei Pier and the Hanalei River. This way, paddlers can easily reverse direction and retreat to the gentler waters of the river should the bay's waves and currents pose too much of a challenge. Keep in mind that on a calm day, the bay is ideal for paddlers of all proficiencies, including beginners. But when the surf is up, the bay can become a challenging place to paddle. If you're unsure whether the bay's conditions are suitable for a SUP, ask a lifeguard before going out, or opt for the river. Drive time to the pier at Hanalei Bay from Kauai SUP is XXX minutes.
Hanalei River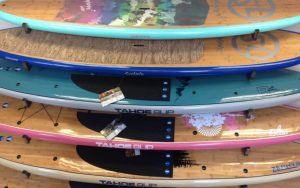 Year-round, even when the surf in Hanalei Bay is rough, the lower mile of Hanalei River remains placid, offering perfect conditions for paddlers of all proficiency levels. The palm tree-lined river forms on the slopes of Mount Waialeale—one the wettest spots on earth—and edges up against Hanalei town before emptying into Hanalei Bay. Floating along Hanalei's shock green taro fields and waterfall-drenched mountain peaks, you'll feel like you've been transported back in time to Old Hawaii. Paddlers typically begin their adventure in the shallow waters where the river meets the bay, which means you'll be fighting the current on the first leg of your journey. When you decide to turn back toward the bay, the river will help push you toward the ocean, making for an easier paddle. Drive time to the Hanalei river mouth from Kauai SUP is XXX minutes.
Kalapaki Beach
If you are looking for placid water, easy water access and resort provisions, look no further than Kalapaki Beach. This natural harbor fronting Kauai Marriott Resort offers the ultimate beach retreat for those seeking easy access to food, beverages and other amenities not found at some of the island's more secluded beach parks. The bay's sandy and grassy shoreline is protected by rock jetties, which make for some of Kauai's calmest waters, particularly in the northeast corner. Paddle just a few hundred feet over, and you can try to get in some small waves! Be sure that you have good control of your board before attempting to paddle in the surf, since a SUP gone wild can be dangerous in crowded surf conditions. We recommend parking in the rear lot at Kauai Marriott Resort (GPS coordinates 21.961135, -159.348405). Drive time to Kalapaki Beach from Kauai SUP is 10 to 15 minutes.